Medical Facilities Support
The mission of the Medical Facilities Support Department is to improve the environment, quality, and efficiency of clinical trials and clinical research using medical imaging at medical institutions. Based on this concept, Micron's technical staff are stationed at medical institutions to provide the following services.
Support for advanced  Clinical Trials and Clinical Research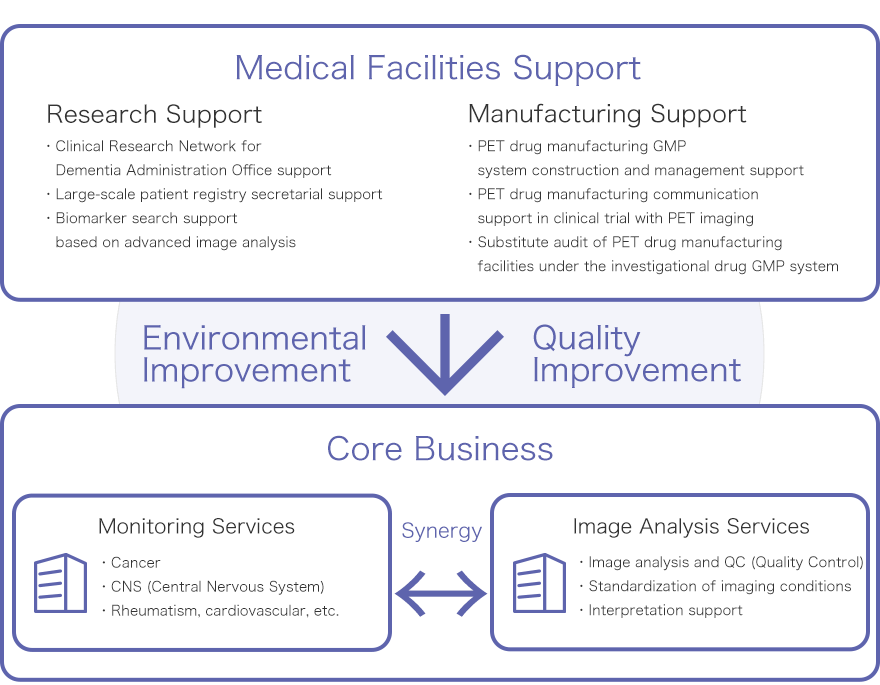 In order to generate synergistic effects with our core businesses, we provide services that support clinical trials and clinical research utilizing medical imaging, the research and development of imaging biomarkers, and secretarial of "construction and operation of patient registry" which is a part of the Clinical Innovation Network (CIN) project.
Throughout these activities, we feel several industry-academia collaborations are not operated efficiently.
In order to resolve this situation, we recognize that it is essential and important for a "imaging CRO" such as Micron, which is familiar with both the current academic situation and industrial needs, to play a bridging role between them.
Ultimately, we aim to build a medium- to long-term industry -academia collaboration system, as illustrated in the figure below, and to provide total solutions that enable our company to provide support for some of the various tasks required.  
Industry-Academia Collaboration – Micron's Proposal
SERVICES
Micron, with Imaging CRA ™ and Japan's largest medical imaging analysis team, has accumulated the know-how to utilize medical imaging at the endpoint of clinical trials and supporting various clinical trials by closely communicating with domestic and foreign KOL or experts. We are promoting the systematization and develpment of medical image analysis software, including the expanding of capabilities, and recommending optimal clinical trials as a pioneering Imaging CRO.